Best GMAT Coaching in Hyderabad Call:8374545621
The test is conducted all round the year from Monday to Friday, twice a day. It will be advisable to register for the test at least a month in advance. GMAT scores are valid for 5 years.


Test Structure & Overview
The GMAT exam consists of four main sections—Analytical Writing Assessment, Integrated Reasoning, Quantitative, and Verbal.
Here is a snapshot of the GMAT exam format and timing.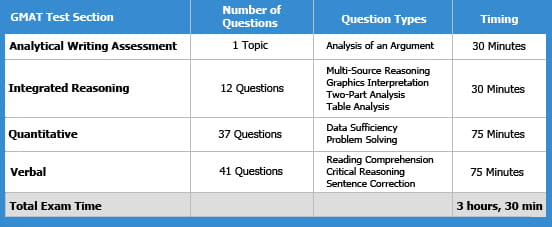 You have three and a half hours in which to take the exam, but plan for a total time of approximately four hours if you choose to take the optional breaks.
The Quantitive and Verbal sections of the GMAT exam follow a computer adaptive format. 
How does it work?
The GMAT adjusts to your individual ability level, which both shortens the time it takes to complete the exam and establishes a higher level of accuracy than a fixed test.
At the start of each multiple-choice section of the exam, you are presented with a question of medium difficulty. As you answer each question, the computer scores your answer and uses it—as well as your responses to any preceding questions—to determine which question to present next. Correct responses typically prompt questions of increased difficulty. Incorrect responses generally result in questions of lesser difficulty.
This process will continue until you complete the section, at which point the computer will have an accurate assessment of your ability level in that subject area.

In a computer-adaptive test, only one question at a time is presented. Because the computer scores each question before selecting the next one, you may not skip, return to, or change your responses to previous questions.
What if I make a mistake or guess?
If you answer a question incorrectly by mistake or correctly by randomly guessing, your answers to subsequent questions will lead you back to questions that are at the appropriate level of difficulty for you.
Random guessing can significantly lower your scores. So, if you do not know the answer to a question, you should try to eliminate as many answer choices as possible and then select the answer you think is best. For more testing strategies.
What if I do not finish?
Pacing is critical, as there is a severe penalty for not completing these sections of the exam.
The time and number of questions that remain in the section are displayed on the screen during the exam.
There are 37 Quantitative questions and 41 Verbal questions. If a question is too time-consuming or if you don't know the answer, make an educated guess by first eliminating the answers you know to be wrong.
How is my score determined?
The number of questions you answer.
Whether you answer the questions correctly or incorrectly.
The level of difficulty and other statistical characteristics of each question.
The questions in an adaptive test are weighted according to their difficulty and other statistical properties, not according to their position in the test.
Are all questions counted?
Every test contains trial multiple-choice questions being pretested for use in a real exam. These questions are not identified and appear in different locations within the test.
Do your best on all questions. Answers to trial questions are not counted in the scoring of your test.
What computer skills do I need for the GMAT exam?
You need only minimal computer skills to complete the GMAT exam. Familiarize yourself with the mechanics of taking a computer-adaptive test by using the GMAT tutorials that are included with the freeGMATPrep® software.
The tutorials cover such topics as using a mouse, entering responses, moving on to the next question, using the word processor, and accessing the Help function.
Before the day of your test, review the testing tools covered in the tutorials. Although you will be able to use a Help function during the test, the time spent doing so will count against the time allotted for completing a test section.
Best GMAT classes in Hyderabad, Best GMAT Coaching Centres in Hyderabad, Best GMAT Coaching Classes in Hyderabad, Best GMAT Coaching in Hyderabad, Best GMAT Coaching in Hyderabad, Best GMAT Coaching in Secundrabad, Best GMAT Training in Hyderabad, GMAT Test Dates, GMATTest Dates Hyderabad, GMAT Training Hyderabad,GMAT exam classes in Hyderabad,GMAT test classes in Hyderabad,best GMAT exam classes in Hyderabad,best GMAT test coaching in Hyderabad,GMAT exam training classes in Hyderabad,best GMAT test training classes in Hyderabad, GMAT General Training Classes in Hyderabad,Best GMAT General Coaching in Hyderabad,Best GMAT General Test training in Hyderabad,GMAT test for Immigration in Australia in Hyderabad.GMAT coaching for Canada immigration in Hyderabad,GMAT Coaching institutes in Hyderabad,Best Gmat Coaching Institutes in Hyderabad,The Graduate Management Admissions Test, better known by the acronym GMAT (pronounced G-mat), is a standardized test for determining aptitude to succeed academically in graduate business studies. The GMAT is used as one of the selection criteria by most respected business schools globally, most commonly for admission into an MBA program. The GMAT is one of many factors schools use when reviewing applications for admission; it is typically balanced with work experience, application essays, an interview, and undergraduate GPA. Although performance on the test helps to determine whether a candidate is admitted to a particular school, these other admissions criteria also play a pivotal role. The GMAT is specifically designed to measure the verbal, quantitative, and writing skills of applicants for graduate study in business. It does not, however, presuppose any specific knowledge of business or other specific content areas, nor does it measure achievement in any particular subject areas. In addition, the test does not measure subjective factors important to academic and career success such as motivation, creativity, interpersonal skills, and study skills. Test takers should note that the GMAT is entirely in English and that all instructions are provided in English. The fee to take the GMAT is currently US$250,worldwide.
Hyderabad the state capital of Andhra Pradesh, it is India's 5th largest metropolis and the 41st largest metropolitan area in the world. Hyderabad has a twin city named Secunderabad which was formed when the British residency of the erstwhile princely State of Hyderabad had set up a military base near Hyderabad. Hyderabad is known for its known for its rich history and culture with monuments, mosques, temples, a rich and varied heritage in arts, crafts and dance and architecture representing its unique characteristic of a meeting point for North and South India, and its multi-lingual culture, both geographically and culturally. Hence, Hyderabad is considered to be the gateway of southern India. Hyderabad has always been a place where Hindus and Muslims have co-existed peacefully for centuries.
Welcome to StudyWorkinScotland.com the Finest Online Yellow pages for the Best Consultants/ Organization, Representatives, Agents, Agency that assists Students in pursuing Overseas (Abroad) Education in Universities (Schools, Colleges, Institutes) in Scotland. Find hundreds of Trusted Reputed Leading Consultants around the world. You can also find Good Institutions Coaching Centers for highly competitive Tests such as GRE, GMAT, SAT, TOEFL, IELTS also. This Yellow Page Helps / Guides  you get the detail Information about contact details of their office address, Phone Numbers, websites and e-mail ids of leading Higher Studies Organization around the world.